eSafety
Internet Safety by South Park children
Click here to see some very informative presentations created by our Year 5 & 6 children using Google Slides
---
Our 12 Rules for Responsible ICT Use
• I will only use the school's computers for schoolwork and homework
• I will only delete my own files
• I will not look at other people's files without their permission
• I will keep my login and password secret
• I will not bring files into school without permission
• I will ask permission from a member of staff before using the Internet and will not visit Internet sites I know to be banned by the school
• I will only e-mail people I know, or my teacher has approved
• The messages I send, or information I upload, will always be polite and sensible
• I will not open an attachment, or download a file, unless I have permission or I know and trust the person who has sent it
• I will not give my home address, phone number, send a photograph or video, or give any other personal information that could be used to identify me, my family or my friends, unless my teacher has given permission
• I will never arrange to meet someone I have only ever previously met on the Internet or by email or in a chat room, unless my parent, guardian or teacher has given me permission and I take a responsible adult with me
• If I see anything I am unhappy with or I receive a message I do not like, I will not respond to it but I will tell a teacher or a responsible adult
Helpful Information
Keeping Under Fives Safe Online
Supporting Young People Online
Online Gaming - An Introduction for Parents
Fortnite - Information for Parents
Useful Links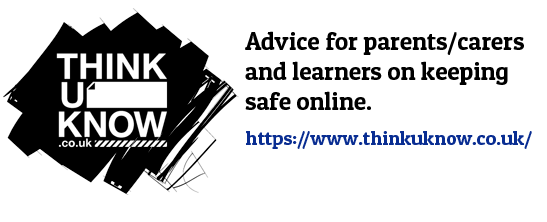 ThinkUKnow is the education programme of the Child Exploitation and Online Protection (CEOP) Centre aimed at young people, and encourages Internet. It is based around 3 key themes;
How to have fun
How to stay in control (or how to take control)
How to report a problem
The Education programme consists of a presentation, which is given to young people in school, youth groups and other youth environments, a website aimed directly at young people, which also contains information for teachers and parents, a number of hard hitting education films designed to make young people think about who they are talking to online and other resources including posters and a range of promotional material.
Whatever you need – help and advice, skills, inspiration - we've got it covered. ... Get tips, knowledge and insider info on all the internet's secrets. ... Join us, Team Own It – along with some of our friends - and take control of your online life.
---
Google Family Safety Centre has several tools available for safe searching and content restriction.
The UK Safer Internet Centre is a resource for parents and carers who wish to find out more about technologies and the internet. Also includes details of Safer Internet Day.
ChildNet International provides entertaining and engaging resources for parents and educators. It also includes resources for children where they can learn about how to be safe online.
---
---
Digital Parenting Magazine, created by Vodafone and Parent Zone, offers parents information and advice about the latest digital technologies and challenges young people might face in their digital world.
South Park Primary School is not responsible for the content of external websites